Argentina Rates & Promotions
Doves and Pigeons in Cordoba
The Province of Cordoba located in central Argentina has become the most popular and desired destination for high volume Wingshooting of doves in the world. Over 50 million doves annually exist within less than a one-hour drive radius from the hunting lodge, El Cortijo. Government studies have shown that the dove population is not only stable but growing. As a result the dove shooting season is open all year, as doves are considered a pest and consume more than 20% of the local grain crops.
The Province of Cordoba is also known as the pigeon shooting capital of the world. Over 5 million pigeons annually inhabit the area south of Cordoba. Pigeon shooting is over decoys or passing pigeons. Transworld Expeditions Inc. (T.E.) is the North America agent for one of the premier Outfitters in Argentina – namely SYC Sporting (SYC) (syc sporting outfitters), having a successful exclusive Canadian contractural relationship with SYC for over five (5) years.
Wingshooting for the doves and pigeons occur from SYC's centrally located lodge – El Cortijo, located about 45 minutes from the Cordoba Airport.
Upon arrival at the Cordoba Airport, you will be met by SYC staff who will assist you with shotgun importation (if you bring a shotgun), and transfer via comfortable van to the El Cortijo Lodge. Upon arrival at the Lodge, you will enjoy an 'Argentina Pcada', a selection of exquisite cold cuts, olives, crackers and other snacks, by the famous Argentina Terma, and the finest of Argentina beer, wines and spirits.
Each night, the chef will present you with exquisite Argentina or International cuisine. Argentina beef is world renowned and you will enjoy the finest steaks available. Each and every day you will enjoy the most succulent of meats. Depending on the shooting location, your midday meal may be at the Lodge, or offered on an incredible barbeque in the field.
The hunting areas may be as close as walking distance or as far as 30 minutes from the El Cortijo Lodge.
Accommodation – El Cortijo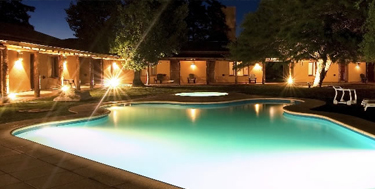 El Cortijo is a premier 5 star resort with 9 guest rooms with double beds, and can accommodate a maximum of 20 hunters.
Each room has its own private bath, air conditioning, daily maid service, laundry service. In the Lodge, there is a Business Center with computer, internet computer access, printer, international phone service, and Wi-Fi, if you have your laptop. The Lodge also features an outdoor hydro massage Jacuzzi and a beautiful swimming pool, as well as artisan crafts in leather and silver for sale in the Gift Shop.
El Cortijo is an excellent example of modern design and engineering to create a warm and rustic feel of hunting lodges of the past. With its grand thatched roof, beautiful Quebracho Colorado tables and bar, and huge fireplace it is both grand and comforting. For every hunter, this is the Argentina experience at its finest!
Dining – El Cortijo
The menus at El Cortijo include a wide range of Argeninean dishes. Argentina is known for its famed beef and you will find it in abundance here. The certified Head Chef is a master at the Argentine / Spanish traditional specialties, and International specialties, that are served daily including traditional delicious desserts. El Cortijo features the best in Argentine wines; the national wine, Malbec, being the favourite.,
A typical shooting day involves breakfast at about 8:00 A.M., followed by a short drive to the shooting field. In the field you will be assigned a bird-boy, who will assist you with shells, refreshments, seat and the shooting. A Senior Guide staff member will be continually monitoring the shoot and will also be available to assist as required. At noon you may return to the Lodge for the noon hour meal, or experience the traditional asados (BBQ) field lunch. At about 2:00 P.M., the afternoon shoot begins and continues to almost dark, or the time members of the Hunt Group wish to cease shooting.
Hunt Programs
Because of the number of options for Wingshooting either doves, and/or pigeons, T.E. will develop a 'Customized Hunt Program' to satisfy a Hunt Groups' desires. For example – a Hunt Group may desire 3 days of doves only, or 2 days of doves and 2 days of pigeons, etc. or as outlined later, the addition of duck hunting in Buenos Aires. Typical Hunt Group Programs in past years generally range from 3 to 7 days of shooting.
T.E. will co-ordinate air travel arrangements for the Hunt Group, obtain all Gun Permits, and arrange for advance payments as desired in so far as possible for all items 'Not Included' in the daily rates (eg. Gun entry costs, shell allowance, licenses, gun rental, etc.) In addition, T.E. will provide the Hunt Group with all pertinent information (eg. travel and health insurance, gun clearance requirements at connecting Airports, etc.), essential for a successful Hunt trip. Also, T.E. can coordinate accommodation and Tours of Cordoba, Buenos Aires, the Wine Country, etc while the Hunt Group, or members thereof, are in Argentina. From the time the Hunt Group arrives at the Cordoba Airport or at the Buenos Aires International Airport, SYC provides attention to all detail services.
2014 Daily Rates (US$) Wingshooting / Accommodations
El Cortijo (Cordoba, Argentina)
Doves $450.00 / day
Pigeons $750.00 / day
Non-Hunter $275.00 / day
Single Room Accommodation $100.00 / day
Extra Night at Lodge $275.00 / night
Included In The Daily Rates
Transportation from / to Cordoba Airport
All transfers – lodge to hunting fields
Deluxe double occupancy with private bathroom
Professional guide services and bird-boys
Lodging at El Cortijo
All Meals - breakfast, lunch and dinner
All beverages including wines, beer and local liquor
Laundry service and gun cleaning
Soft drinks and water during hunt
ree internet Access (Wi-Fi)
Not Included In The Daily Rates
Air fares
Hunting License in Cordoba Province: US$ 65/day
Cartridges US$ $12.50/box
Gun entry permits US$ 140/gun
Shotguns available to rent ( 12 and 20 gauge semi automatics, and over and under guns): Rental US$ $65/day
Voluntary Gratuities for guides and house staff
Special Cordoba Promotions:
Father & Son Promotion -
Children Come Free

For the father who wants to share with his son or daughter the hunting event of a Lifetime, and the son or daughter who wants to give their father the same incredible shooting experience, Argentina is the answer! T.E. want to make this very important event available to you at a price your can afford, at a time that is convenient to you.
If you have a son or daughter, 18 years of age or less, you pay only for the Licensees, cartridges, gratuities, air fare and gun entry permits. Meals, Transportation, guides, bird boys and more will be on us.
8 For 7 Promotion -
8 Hunters Come, Only 7 Pay

For groups of hunters of 8 or more, T.E. offers the "8 for 7" package. With 7 paying hunters, the 8th is FREE, paying only for items noted as 'Not Included On The Daily Rates'.
The leader of the group may use this for his own benefit, as putting together large groups is a lot of work, or he may choose to spread the saving over the whole group. If hunters choose to share the savings, they can expect a discount of approximately 10%.
This is a year round offer for any group of 8 or more and applies to any of our Hunt Packages even combination Packages.
This promotion is not available in conjunction with other promotional discounts.
There is a $1,000 USD per hunter deposit required at the time of booking and the remaining amount due 90 days prior to departure. Additional hunting days can be purchased as well as non-hunter passes. Airport taxes are extra (currently $20 on departure).